AE Raises Funds to Fight Kids' Cancer
On September 23, 2020 AE Engineering participated in the Great Cycle Challenge USA which raises funds to fight against kids' cancer. Rod Myrick and Philip Lyon, with the support of their coworkers, Ricardo Baraybar, Andres Atehortua and Alex Badaar participated in the event and reached the "Finish Line" of their 200-mile goal. Way to go guys!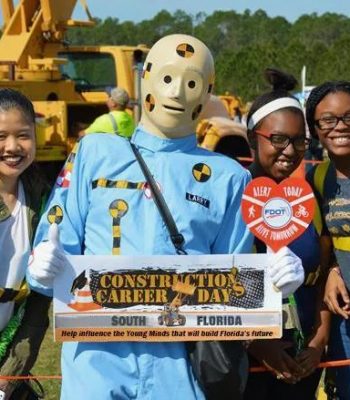 South Florida Construction Career Days
AE Engineering Inc. is a proud participant in the Annual South Florida Construction Career Days.
As more people visit or relocate to the State of Florida, the need for qualified construction workers grows. Everything from roadways to homes and shopping centers are necessary to support the increasing population. The construction of each requires skilled workers, yet the numbers of those entering the field is dwindling.

In order to increase the number workers in the construction industry, transportation industry officials began an educational outreach program for high school students in 1999. The program is called Construction Career Days. The program is designed to introduce school students to the wide range of career opportunities available to them in the construction industry in a hands-on environment.
AE Engineering manages the hands- on Lab Mechanically Stabilized Earthwork (MSE), Wall Construction and provides the chocolate for the Chocolate Asphalt (mix design) Hands-on Lab for this annual event.
Paving the way for future construction professionals thru hands-on experience